We will support the increase to the low and middle income tax offset proposed in the Budget and will deliver tax relief from 1 July this year.
But the Liberals' unfair Budget leaves 3.6 million Australians earning less than $48,000 a year short-changed – and 57 per cent of these taxpayers are women.
To give these workers the tax cut they deserve, Labor will increase the offset for low income and part-time workers.
With Labor, 10 million Australians will get the same or a bigger tax cut from 1 July 2019.
Under Labor's changes, which will apply from the 2018-19 financial year, workers earning up to $37,000 a year will receive a tax cut of up to $350. For workers earning between $37,000 and $48,000 a year, the value of the offset will increase up to the maximum offset of $1,080.
A retail worker on $35,000 a year would get a tax cut of $255 a year under the Liberals, compared to $350 in Labor's plan.
A part-time nurse on $40,000 a year would get a tax cut of $480 a year under the Liberals, compared to $549 in Labor's plan.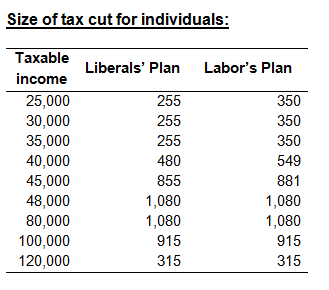 The Liberals' priorities are all wrong. With the Liberals, low income workers get less than $5 a week, but an investment banker gets more than $11,000 a year in tax cuts.
Labor can pay for better tax cuts for 3.6 million Australians – without the Liberals' cuts to schools and hospitals – because of our reform decisions to make multinationals pay their fair share and close tax loopholes used by the top end of town. This policy will have a budget impact of $1.05 billion over the forward estimates and $59.3 billion over the medium term.
Labor will not proceed with the Morrison Government's fiscally reckless income tax cuts for the top end of town. Voters would have to elect a Morrison Government twice to see them come to fruition – it's ridiculous.
Independent Parliamentary Budget Office analysis shows that the fiscal impact of the Morrison Government's stage two and three tax cuts is an astonishing $286 billion over the medium-term, coming at an annual cost of nearly $50 billion by the end of the decade.
These tax cuts also primarily benefit high income earners, with Australia Institute analysis showing that 54 per cent of the benefits go to the top 20 per cent of income earners, with $77 billion of the tax cuts going to those earning more than $180,000.